STUDY GROUPS 2022
Bacchae
Bacchae's next meeting will be held on October 13 at Blue Ridge Winery at 11:00. The winery is located at 239 Blue Ridge Rd in Saylorsburg 18353. We will have a tour of the facility and a wine tasting. More information will follow relating to directions and carpooling. Contact Phyllis Wargo if you have any questions.

Contact: Phyllis Wargo, 610-797-9158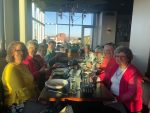 Diversity: Deeds and Dialogue

Contact: Cathy Kotanchik
The Diversity Deeds and Dialogue group has changed its name to DEIB Diversity, Equity, Inclusion, and Belonging. Our group meets monthly. If you have any questions, contact Rosemary Baker. The next meeting will be September 1, 2022, on Zoom. The topic is Braiding Sweetgrass: Indigenous Wisdom, Scientific Teachings of Plants by Robin Wall Kimmerer – Parts 1&2. New members are always welcome.
Mystery Paperback
Contact: Linda Robbins, 484-347-4416
Join us as we try to solve the mystery of "The MoonFlower Murders", by Anthony Horowitz at the home of Linda Federico on September 27 from 1:30pm to 3:00pm. A retired executive is found murdered in a hotel in Suffolk. A maintenance man is found guilty and spends 8 years in prison. His innocence is questioned and the subject disappears. Is he guilty or innocence and if innocent, who is the real culprit.
Out to Lunch Bunch
Contact: Amy Fields
Out to Lunch Bunch will be meeting on Wednesday October 12 at 12:30 at Torre Restaurant in the Promenade. Please email Amy Fields by Friday October 7 if you plan on coming.
Paperback I
Contact: Mardi Metzger
Paperback I meets in the homes of members and discusses fiction and nonfiction books available in paperback. We usually meet on the fourth Tuesdays of each month at 2:00 pm. Meetings are not held in July, August, and December. We will meet next on September 27 and discuss "The Night Watchman" by Louise Erdrich. "This book is based on the extraordinary life of Louise's grandfather who worked as a night watchman. He carried the fight against Native dispossession from rural North Dakota all the way to Washington D.C. This powerful novel explores themes of love and death and reflects the elegant prose, sly humor, and depth of feeling of a master craftsman." It is the winner of the National Book Award. Our group warmly welcomes new members.
Paperback II
Contact: Joanne Wagner, 610/392-0891
PPBII Book Group meets the third Tuesday of every month, September through May except for December. Meetings start at 7:00 pm. There is a different host each month on a volunteer basis. Light refreshments are served. Members volunteer book titles and descriptions of their books. Usually, the reviewer is the person who recommends the book to be reed. PPBII Book Group will open their 2022-2023 year by reading "The Remains of The Day" by Kazuo Ishiguro. "A brilliant and deeply moving novel. Beneath the simple and compelling narrative, Ishiguro has run a line into the core of history and the English mind." A compelling portrait of the perfect English butler and of his fading, insular world in postwar England. We will meet on Tuesday, September 20th at Shirley Daluisio's home in Bethlehem at 7:00 pm. We welcome new members.