DIGGING IN THE PAST FOR OUR FUTURES
Robin Gow, new Director of the Training Institute, from the Bradbury-Sullivan LGBTQ Community Center, will be the presenter and will discuss exploring LGBTQ+ archives. No RSVP is necessary.
Thursday, March 30th, 1:00-2:30 p.m.
Northampton Community College main campus.
3835 Green Pond Road, Bethlehem.
Alumni Hall-Gates Center. Room 130D
(Same building as Hampton Winds)

School Funding 101 and BASD Proud Parents
Date: Monday, February 13
Time: 7:00pm
Location: Zoom, register below
Every child in Pennsylvania deserves robust course choices, class sizes that allow for personalized support, enough school counselors and nurses, and a safe learning environment so they can thrive and succeed in school today and live productive, fulfilling lives after graduation. But we don't provide students in every community with the support they need to reach their potential.
Unfortunately, Pennsylvania has one of the most inequitable school funding systems in America, ranking 43rd in the nation for state share of funding for K-12 education and with a funding gap that continues to grow.  When the state share of funding is low, communities must rely on local wealth – property taxes – to fund their schools.
We need support for basic education funding as well as programs, such as "Level Up" which help the lowest 100 (out of 500) underfunded PA school districts.  Allentown and Bethlehem are among them.
Our AAUW program will help you to understand the basics of how school fundings work in PA.  We will share about our district advocacy group, BASD Proud Parents: who we are, what we do, and how to get involved.  You will also learn what you can do to make our school funding system better to ensure success for all students.
Join AAUW member, Trisha Moller, and her BASD Proud Parents partners to learn how you can use your voice and vote!
Register in advance for this meeting:
https://moravian.zoom.us/meeting/register/tJMrd-mtqTwpE9WbjzMMSpCvkSe7rpw-0hqE
After registering, you will receive a confirmation email containing information about joining the meeting.
Join Us for the September Program: Chief Michelle Kott – The First Female Police Chief in the City of Bethlehem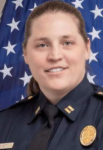 Saturday, September 17, 2022 10:00 a.m. Northampton Community College Fowler Family Southside Center, 511 E. 3rd Street, Bethlehem 18015 – Public Invited
Chief Kott is an 18-year veteran of the City of Bethlehem Police Department. Prior to her appointment as Chief in 2020, she served as a patrol officer, detective, patrol sergeant, detective sergeant, detective lieutenant, and captain. In addition to these primary assignments, Chief Kott also served as a member of the department's Crisis Negotiation Team, and would later become the group's Team Leader. Chief Kott is a member of the International Association of Chiefs of Police, as well as the Pennsylvania Chiefs of Police Association. Chief Kott holds a Bachelor of Arts degree in Criminal Justice from DeSales University and a Master's degree in Criminal Justice from St. Joseph's University. In 2019 she received her Doctorate in Criminal Justice from California University of Pennsylvania and was the recipient of the Jay S. Albanese Award for Academic Excellence in Doctoral Criminal Justice Studies. Chief Kott is an adjunct instructor with Northampton Community College and resides in Bethlehem, PA with her wife and two children. Please join us for this one of a kind presentation from a top notch woman. Since this event is open to the public, please invite friends. 
PA School Funding: The Good, The Bad, & The Ugly
On Saturday, October 9, 2021, Michael Faccinetto, President of the BASD Board of School Directors, presented an "eye-opening" slide show to our members and the community on Fair Funding for PA Public Schools. Starting with the Constitutional Standard (Article III, Section 14) "The General Assembly shall provide for the maintenance and support of a thorough and efficient system of public education to serve the needs of the Commonwealth," he then went on to provide a history of school funding. He explained the basics of how our schools became so unfairly and poorly funded using a technique called "hold harmless."
This funding mechanism meant to ensure that some declining school districts would not collapse has instead caused severe underfunding for growing school districts in our state. Mr. Faccinetto highlighted the disparity in funding by using the Parkland and Allentown School Districts as an example. Living on a different side of the street in one Allentown neighborhood means a very different school experience.
PA School Districts are underfunded by $4.6 billion — and those in the poorest school districts, who have fallen the furthest behind are owed the most. The average Bethlehem School District student is shortchanged $2,709 per year. For Mr. Faccinetto's complete slide presentation with additional resources see the link here: Pennsylvania School Funding.