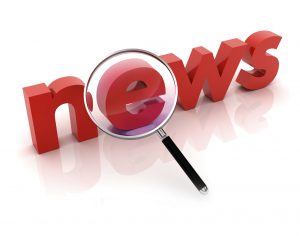 The Return of AAUW's Annual Book Fair!
AAUW Bethlehem announces the return of their annual Book Fair in 2022 at the Bethlehem Ice Rink, 345 Illick's Mill RD, Bethlehem, PA 18017. The 60th annual Book Fair will be held April 28-May 2, 2022. Since the book fair began in 1962 $979,000 has been raised for scholarships for high school girls and adult women. This year our goal is to reach $1 million in net sales.
Donations of gently used books, CDs, DVDs, and Audio Books will be accepted from April 4 to April 26, Monday through Saturday, 9 AM to Noon.
Hours are:
April 28, 2-6 PM (paid entry required)
April 29, 10 AM – 7 PM
April 30, 10 AM -6 PM
May 1st, 12-6 PM (Half-price Day)
May 2nd, 9-12 AM (Bag Day – $10 a bag)
60th Annual Used Book Fair is Coming!
The dates have been set for the 60th Book Fair at the Ice Rink on Illick's Mill Road, Bethlehem. We know you have all been waiting, too. Keep saving your books and be ready for our sale!
Collections begin April 4 through April 26, 2022, and we will be accepting used books, CDs, DVDs, and Audio Books.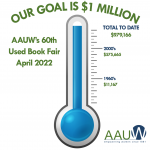 More exciting is how close we are to reaching a goal of $1 million in sales of the donated materials. Since 1962, $979,000 has been raised and with that, approximately 735 girls have received scholarships totaling approximately $750,000.
Let's make #60 an all-star record-breaking year.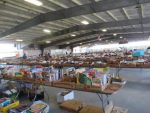 Don't Miss This! 60th Anniversary Bethlehem Branch Book Fair Celebration Luncheon
Wednesday, June 29, 2022, at Northampton Country Club. Details to follow.
PA School Funding: The Good, The Bad, & The Ugly
On Saturday, October 9, 2021, Michael Faccinetto, President of the BASD Board of School Directors, presented an "eye-opening" slide show to our members and the community on Fair Funding for PA Public Schools. Starting with the Constitutional Standard (Article III, Section 14) "The General Assembly shall provide for the maintenance and support of a thorough and efficient system of public education to serve the needs of the Commonwealth," he then went on to provide a history of school funding. He explained the basics of how our schools became so unfairly and poorly funded using a technique called "hold harmless."
This funding mechanism meant to ensure that some declining school districts would not collapse has instead caused severe underfunding for growing school districts in our state. Mr. Faccinetto highlighted the disparity in funding by using the Parkland and Allentown School Districts as an example. Living on a different side of the street in one Allentown neighborhood means a very different school experience.
PA School Districts are underfunded by $4.6 billion — and those in the poorest school districts, who have fallen the furthest behind are owed the most. The average Bethlehem School District student is shortchanged $2,709 per year. For Mr. Faccinetto's complete slide presentation with additional resources see the link here: Pennsylvania School Funding.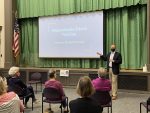 Bacchae Update
Bacchae met on Thursday, January 13, on Zoom and had an enjoyable evening with our guest sommelier Kathleen, whom Rita had invited. Kathleen guided us through a tasting of two northern Italian wines from the Piedmont region, a Pinot Grigio and a Dogliano, a red wine that none of us had ever tried before. She also made suggestions about food pairings for each wine. We finished the evening with Amy's scrumptious dessert, peanut butter caramel brownie bites. Next month on February 10 at 7 pm, we will meet again on Zoom and taste wines from Pennsylvania and New York. The individual cups of wine and a serving of dessert will be delivered by hostesses Joanne Wagner and Phyllis Wargo to each member attending the meeting–with the exception of those joining us from Florida, of course! Any questions? Contact Phyllis Wargo.