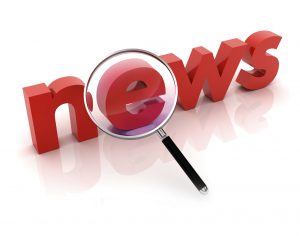 AAUW BOOK FAIR: WE HIT $1 MILLION!
AAUW 2022 BOOK FAIR WAS A SUCCESS!
AAUW Bethlehem wishes to thank all members, volunteers, and the entire community for the success of the 2022 Book Fair. From the first day we were overwhelmed with donations and everyone worked diligently to get the materials sorted and out on the Ice Rink for sale. We believe this to be the biggest fair ever and we were all thrilled to exceed the $1 million dollar amount in gross sales over the 60 years the fair has been in existence. That funding has provided for many many scholarships for young women and also adult women furthering their education. We hope to see you all next year!
BOOK FAIR REVEALED!!! WE ARE READY FOR YOU!!!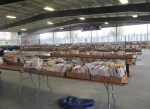 Book fair hours are:
April 28, 2-6 PM (paid entry required)
April 29, 10 AM – 7 PM
April 30, 10 AM -6 PM
May 1st, 12-6 PM (Half-price Day)
May 2nd, 9-12 AM (Bag Day – $10 a bag)
The Return of AAUW's Annual Book Fair!
Check out the Better Books list before the Book Fair here!
Read about the hard work that has been put into this year's Book Fair here!
Due to the overwhelming response to donations for our Book Fair, Saturday, April 23rd will be the last day for accepting donations. Please visit the Book Fair from April 28 – May 2.
Thank you to the Lehigh Valley community for all your contributions to our Book Fair. We expect this to be a banner year in sales, and exceed our goal of $1 million in total gross sales for the 60 years we have had Book Fair. Graduating girls from our local high schools, who receive our scholarships, will definitely benefit from this year's sales. We have a group of dedicated volunteers but we can always use more. Even if you can only help a few hours a week please plan to come and join our happy crew. We have a lot of fun and you get the first chance to buy books! We need sorters every morning when donations are accepted (don't worry – we will train you) and also volunteers to be cashiers and helpers on the floor on sale days.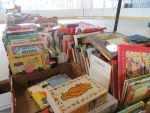 We can give you a sneak peek at what's under some of the blue tarps. This photo shows just a sample of what is available in the Children's Section.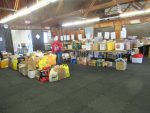 Books are coming in and are ready for sorting!
Meeting with section chairs and volunteers!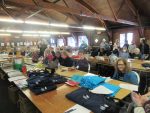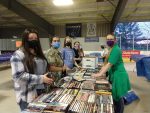 Senior Troop #8225 doing some Community Service by helping with Book Fair. They are checking the CD and DVD cases making sure they contain the correct disc. The troop meets at East Hills Moravian Church in Bethlehem.
60th Annual Used Book Fair is Coming!
The dates have been set for the 60th Book Fair at the Ice Rink on Illick's Mill Road, Bethlehem. We know you have all been waiting, too. Keep saving your books and be ready for our sale!
Collections begin April 4 through April 26, 2022, and we will be accepting used books, CDs, DVDs, and Audio Books.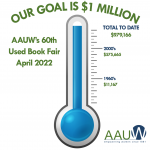 More exciting is how close we are to reaching a goal of $1 million in sales of the donated materials. Since 1962, $979,000 has been raised and with that, approximately 735 girls have received scholarships totaling approximately $750,000.
Let's make #60 an all-star record-breaking year.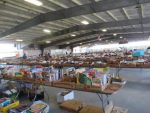 Don't Miss This! 60th Anniversary Bethlehem Branch Book Fair Celebration Luncheon
Wednesday, June 29, 2022, at Northampton Country Club. Details to follow.
Does the Woman Warrior in You Need a Booster Shot?
Come join AAUW members from all over Pennsylvania at the 2022 AAUW PA Convention in Harrisburg. If you worked at the Book Sale this year, you know the boost in energy you get from the people working around you. This year you have the opportunity to experience that energy as we emerge from pandemic mode and resume our fight for women and girls.
WHEN: June 3-5, 2022
WHERE: Central Hotel & Conference Center, Harrisburg
COST: $145** Full Conference (meals included); $120** Saturday and Sunday (meals included); $110** Saturday Only (meals included)
Accommodations at the Central Hotel: $133.14/night: double occupancy
Check for registration information in your email in mid-March.
Check out the Agenda and links for Registration at aauw-pa.aauw.net and click on 2022 State Convention in the topics at the upper left part of the page. Deadline to register is May 13, 2022.
Carpool with a friend and share a hotel room. Give yourself a break and your mind some stimulation. I hope to see you there!
Cathy Kotanchik, ckotanchik07@gmail.com
**Funds may be available to offset some of the cost. Please contact me for information.
Cedar Crest College Welcomes Admiral Rachel L. Levine, MD
Admiral Rachel L. Levine, MD, will speak at Cedar Crest College on Thursday, April 28, 2022, at
7:30 p.m. in Alumnae Hall. ADM Levine's appearance is part of Cedar Crest College's William D. Reimert Lecture Series. The Register for the event online at  www.cedarcrest.edu/reimert.
Cedar Crest College requires that all individuals, regardless of vaccination status, properly wear a well-fitting face covering in public indoor spaces when they are not actively eating or drinking.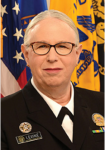 PA School Funding: The Good, The Bad, & The Ugly
On Saturday, October 9, 2021, Michael Faccinetto, President of the BASD Board of School Directors, presented an "eye-opening" slide show to our members and the community on Fair Funding for PA Public Schools. Starting with the Constitutional Standard (Article III, Section 14) "The General Assembly shall provide for the maintenance and support of a thorough and efficient system of public education to serve the needs of the Commonwealth," he then went on to provide a history of school funding. He explained the basics of how our schools became so unfairly and poorly funded using a technique called "hold harmless."
This funding mechanism meant to ensure that some declining school districts would not collapse has instead caused severe underfunding for growing school districts in our state. Mr. Faccinetto highlighted the disparity in funding by using the Parkland and Allentown School Districts as an example. Living on a different side of the street in one Allentown neighborhood means a very different school experience.
PA School Districts are underfunded by $4.6 billion — and those in the poorest school districts, who have fallen the furthest behind are owed the most. The average Bethlehem School District student is shortchanged $2,709 per year. For Mr. Faccinetto's complete slide presentation with additional resources see the link here: Pennsylvania School Funding.