Civics For Grown-Ups, sponsored by AAUW-Allentown
Presenters:  Paula Taylor and Lori Angstadt, Sunday, January 6, 2019,1:30 to 4:30 pm
Cedar Crest College in the Hamilton Boulevard Building – Room 5. Open to the public.
Paperback II Study Group Attended Author Event
Ten members of AAUW Bethlehem Paperback II study group attended an author event at Palmer Library on Oct. 16, 2018.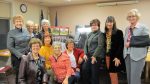 Read more…
Black Women and the Pay Gap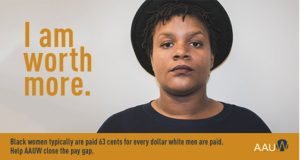 Link to article: Click here
AAUW advocates TODAY to make sure that little girls have  a fair chance in the world Tomorrow.
2019 BOOK FAIR UPDATE: CHANGE OF DATES
Instead of the previously announced 2019AAUW Used Book Fair sale information, the 2019 Book Fair will be held in April 2019. Mark your calendars with the following dates and we look forward to seeing you in April!
57th ANNUAL BOOK FAIR
Thursday, April 25th through Monday, April 29th, 2019
Held at Bethlehem Ice Rink
359 Illick's Mill RD, Bethlehem, PA 18017
Donations Accepted at the Ice Rink April 1-23, 2019
Monday through Saturday 9-noon
Definition: Feminism (It may not be what you had been thinking)
: the belief that men & women should have equal rights & opportunities
: organized activity in support of women's rights and interests
: the theory of the political, economic, and social equality of the sexes
Three Steps to Overcoming Negotiation Bias
Do Your Homework.  Read more