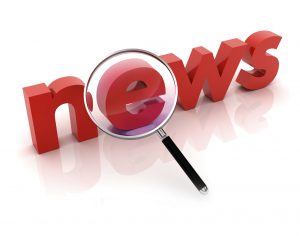 Our November Program is Confirmed!
Please contact mlvaauw@gmail.com.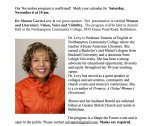 PA School Funding: The Good, The Bad, & The Ugly
On Saturday, October 9, Michael Faccinetto, President of the BASD Board of School Directors, presented an "eye-opening" slide show to our members and the community on Fair Funding for PA Public Schools. Starting with the Constitutional Standard (Article III, Section 14) "The General Assembly shall provide for the maintenance and support of a thorough and efficient system of public education to serve the needs of the Commonwealth," he then went on to provide a history of school funding. He explained the basics of how our schools became so unfairly and poorly funded using a technique called "hold harmless."
This funding mechanism meant to ensure that some declining school districts would not collapse has instead caused severe underfunding for growing school districts in our state. Mr. Faccinetto highlighted the disparity in funding by using the Parkland and Allentown School Districts as an example. Living on a different side of the street in one Allentown neighborhood means a very different school experience.
PA School Districts are underfunded by $4.6 billion — and those in the poorest school districts, who have fallen the furthest behind are owed the most. The average Bethlehem School District student is shortchanged $2,709 per year. For Mr. Faccinetto's complete slide presentation with additional resources see the link here: Pennsylvania School Funding.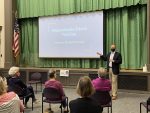 Don't Miss This! 60th Anniversary Bethlehem Branch Book Fair Celebration Luncheon
Wednesday, June 8, 2022, at Northampton Country Club. Details to follow.
Bacchae Update
At our November 11 meeting, we met at Myra Jones' house and tasted a New York wine from the Finger Lakes (a Gruner Veltliner from the Konstantin D Frank and Sons winery) and a Lehigh Valley wine (Cabernet Sauvignon from Clover Hill Vineyards and Winery). Gruner Veltliner is a wine we haven't evaluated very often, so we were delighted to find this. It was delicious! The cabernet came highly recommended by a Fine Wines and Spirits Store employee and we enjoyed that one, too. We rounded out our meeting with a scrumptious light dinner and dessert provided by Myra and co-hostess JoAnn Kelly. There is no December meeting. Our next meeting is on January 13 at 7:00 PM on Zoom. Rita Bergstrom will serve as hostess with Amy Fields as co-hostess. Rita arranged to have a guest sommelier lead our tasting and evaluation.
60th Annual Used Book Fair is Coming!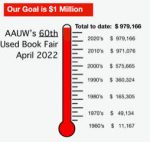 The dates have been set for the 60th Book Fair at the Ice Rink on Illick's Mill Road, Bethlehem. We know you have all been waiting, too. Keep saving your books and be ready for our sale!
Collections begin April 4 through April 26, 2022 and we will be accepting used books, CDs, DVDs, and Audio Books.
More exciting is how close we are to reaching a goal of $1 million in sales of the donated materials. Since 1962, $979,000 has been raised and with that, approximately 735 girls have received scholarships totaling approximately $750,000.
Let's make #60 an all-star record-breaking year.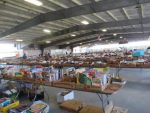 Inter-Branch Diversity Study Group "Goes" to Harrisburg
On July 15,  2019, members of the Bethlehem-Easton inter-branch study group, 'Diversity: Deeds and Dialogue,' joined other AAUW-PA members to participate in a webinar conversation with Pennsylvania's First Lady Frances Wolf. This program was led by AAUW-PA Public Policy Chair, Barbara Price. Mrs. Wolf mentioned her interested in the issue of women and the criminal justice system, particularly that of re-enetry.
In the Q&A box, D:DD co-chair, Randi Blauth, thanked the first lady and the governor for their work and recognition of the problems women face upon reentry to our communities. Randi mentioned that our group had studied many of the issues and had worked, in limited capacity, with groups in the Lehigh Valley working for change. Mrs. Wolf expressed an interest in what the group had done and said she'd be in touch.
The next day, her Chief of Staff, Jen Wilburne, contacted the group to schedule a conversation with her and Executive Staff Assistant, Madeline Williams. A week later, many from the inter-branch study group "went" to Harrisburg via Zoom. Mrs. Wolf's staff and the D:DD shared an energizing and fruitful conversation on the barriers to safe housing, jobs, job training, transportation, safety, mental health, and domestic violence. the Diversity: Deeds and Dialogue study group is grateful for the opportunity to work with Mrs. Wolf and her staff.
You can read more about the experience on page 5 of the September Newsletter.
AAUW Lehigh at the NCCWSL Conference
In 2019, AAUW Lehigh sent four students to the NCCWSL conference at the University of Maryland. The student group was able to do so because our members along with other friends – raised more than $1,700 to help them with registration and travel expenses. In appreciation, the young women presented an autographed copy of Roxane Gay's book "Bad Feminist".