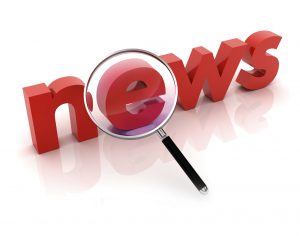 Please Join AAUW Bethlehem to Hear Dr. Sirry Alang on March 13
Dr. Alang will speak on Diversity, Inclusion, and Justice on march 13 at 10:00am on Zoom. Please email mlvaauw@gmail.com by March 10.

59th Annual Used Book Fair is Cancelled
After much deliberation, AAUW Executive Board has made the decision to cancel the Spring 2021 Book Fair for many reasons, but mainly to secure the health and safety of our members and volunteers, as well as our shoppers and extended community.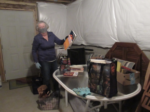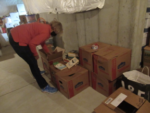 Some of the Book Fair Committee hard at work in January getting ready for the 60th Book Fair at the Bethlehem Ice Rink.
Bylaw Changes
On January 20, an extraordinary young woman, Amanda Gorman, captured the hearts of all Americans as she read her poem on Inauguration Day. Yes, there is always light, but we must be brave enough to see it, hear it, and be it. There is a call to see the light to our AAUW membership right now. We must look at the National AAUW recommendations for a change in the bylaws for Open Membership.
Change is difficult, but with enough information and background on proposed changes, we can make informed decisions on this topic. National AAUW recommends opening membership to all women who hold our missions and our core values of equality for all and remove any barriers that keep us from achieving these outcomes. They hope to achieve a more diverse and inclusionary organization. They strongly recommend eliminating the degree requirement for membership to accomplish this. The following are some key points to consider in making an informed decision on the proposed changes.
This change is about inclusion. AAUW has a vision of Equity for All. Our practices should align with this vision.
We need to create a more diverse membership bringing new perspectives to meet our mission of advancing gender equity.
The educational requirement is in opposition to recruiting more diverse and younger members.
Education's role comes in many forms, including Career Technical Education, on the job training, and similar routes.
Not having a degree does not exclude advocates from working on our mission. As an organization that promotes equity, we do not treat non-degree individuals are equals. Sometimes, we are seen as an exclusionary and elitist organization and have not evolved.
Organizations and foundations prefer to work with and fund other organizations that adhere to diversity, inclusion, and equity policies and practices. We are losing dollars to fund our missions in the future.
This spring, between April 7 and May 17, 2021, our members will vote on a change to our bylaws to open membership to non-degree members. We need at least 5% of our members to vote and 2.3 vote to amend the bylaws. Please take time to review, research, and consider this change to our bylaws. Be brave enough to see it, consider it, and change it.
More information on Open Membership can be found on the following link. Copy and paste in your browser.
Bacchae Meeting
Bacchae will meet again on Zoom on Thursday March 11, 2021 at 7:00pm. Fran Bentkowski and Jeanne Eroh will be hostesses and will be delivering the wine packages. Fran will also be hosting the Zoom session. Please contact them to let them know whether or not you will be attending. Wines will be hostesses' choice. Any questions? Contact Phyllis Wargo.
Next Mystery Book Club Meeting
Attention all mystery lovers! The Mystery Book Club will meet on Zoom on Tuesday, March 23, 2021 at 1:30pm. Cathy Kotanchik will lead our discussion of the book "Moriarty" by Anthony Horowitz and compare it to the short story "The Final Problem" by Sir Arthur Conan Doyle. This is a great time to join our book group and all new members are welcome. Contact Mary Dawson for more information.
Inter-Branch Diversity Study Group "Goes" to Harrisburg
On July 15,  2019, members of the Bethlehem-Easton inter-branch study group, 'Diversity: Deeds and Dialogue,' joined other AAUW-PA members to participate in a webinar conversation with Pennsylvania's First Lady Frances Wolf. This program was led by AAUW-PA Public Policy Chair, Barbara Price. Mrs. Wolf mentioned her interested in the issue of women and the criminal justice system, particularly that of re-enetry.
In the Q&A box, D:DD co-chair, Randi Blauth, thanked the first lady and the governor for their work and recognition of the problems women face upon reentry to our communities. Randi mentioned that our group had studied many of the issues and had worked, in limited capacity, with groups in the Lehigh Valley working for change. Mrs. Wolf expressed an interest in what the group had done and said she'd be in touch.
The next day, her Chief of Staff, Jen Wilburne, contacted the group to schedule a conversation with her and Executive Staff Assistant, Madeline Williams. A week later, many from the inter-branch study group "went" to Harrisburg via Zoom. Mrs. Wolf's staff and the D:DD shared an energizing and fruitful conversation on the barriers to safe housing, jobs, job training, transportation, safety, mental health, and domestic violence. the Diversity: Deeds and Dialogue study group is grateful for the opportunity to work with Mrs. Wolf and her staff.
You can read more about the experience on page 5 of the September Newsletter.
Wearing White Honors the 1919 Activists on the 100th Anniversary of Women's Suffrage in the U.S.
Check out our AAUW Bethlehem Suffragettes! What a great turnout for September 2019's meeting.

AAUW Lehigh at the NCCWSL Conference
In 2019, AAUW Lehigh sent four students to the NCCWSL conference at the University of Maryland. The student group was able to do so because our members along with other friends – raised more than $1,700 to help them with registration and travel expenses. In appreciation, the young women presented an autographed copy of Roxane Gay's book "Bad Feminist".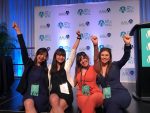 Gender Pay Gap Shortchanges Women $500 Billion Annually; Biggest Gaps among Financial Managers, Physicians and Surgeons
Link to AAUW National website: Gender Pay Gap Shortchanges Women $500 Billion Annually; Biggest Gaps among Financial Managers, Physicians and Surgeons
Definition: Feminism (It may not be what you had been thinking)
: the belief that men & women should have equal rights & opportunities
: organized activity in support of women's rights and interests
: the theory of the political, economic, and social equality of the sexes
Three Steps to Overcoming Negotiation Bias
Do Your Homework.  Read more