WELCOME to AAUW Bethlehem (PA) Branch
Our Mission: To advance gender equity for women and girls through research, education, and advocacy.
Our Vision: AAUW will be a powerful advocate and visible leader in equity and education through research, philanthropy, and measurable changes in areas impacting the lives of women and girls.
Values Statement: Nonpartisan, Fact-based, Integrity, Inclusion, and Intersectionality.
American Association of University Women (AAUW) is a nationwide network of more than 170,000 members and supporters across the United States, with 1,000 branches.  For 130 years, AAUW members have examined and taken positions on the fundamental issues of the day — critical social issues, civil rights, education, , discrimination, and workplace equity. Our commitment to our mission is reflected in all aspects of our work.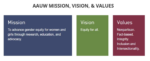 ---

About Us: A Short History
AAUW Bethlehem Branch was officially recognized in 1929 with 55 members. The Bethlehem Branch organized the first Study Groups in 1933 for social activities and exploration of positions of fundamental issues of the day. We awarded the first scholarship of $300 to a female graduate of Bethlehem High School in 1954. In 1963, we opened the doors to our First Book Fair. This year we celebrated its 60th anniversary and to date have raised over one million dollars for educational scholarships for women and girls. In 2022, we celebrate our 93rd year of continuing to break through barriers for women and girls.