Truth for Women, October 3, 2018, 6:45 pm – 8:45 pm
AAUW Lehigh Student Affiliate Group: Cookies for Change
On August 27, 2018, the AAUW Lehigh Student Affiliate Group held its Cookies for Change event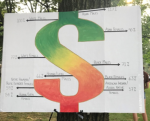 during Lehigh's annual club fair. This event aimed to raise awareness about the gender pay gap and provoke thoughtful conversation about the issue amongst peers on campus. Read more
Get Out the Vote – Registration Table
On Tuesdays through October 9, 2018, AAUW-Bethlehem will staff a table to register new voters. We will be located outside the Bethlehem Public Library to welcome potential voters from 4-7pm (the best time to canvas the greatest number of visitors) every Tuesday. To help for an hour or 2, please call Linda Robertson (contact information in your member directory) and volunteer.
As long as we have two AAUW members present, we can help improve the country's voting statistics.
Black Women and the Pay Gap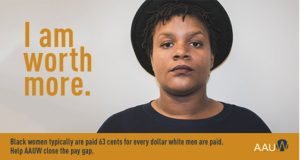 Link to article: Click here
AAUW advocates TODAY to make sure that little girls have  a fair chance in the world Tomorrow.
2019 BOOK FAIR UPDATE: CHANGE OF DATES
Instead of the previously announced 2019AAUW Used Book Fair sale information, the 2019 Book Fair will be held in April 2019. Mark your calendars with the following dates and we look forward to seeing you in April!
57th ANNUAL BOOK FAIR
Thursday, April 25th through Monday, April 29th, 2019
Held at Bethlehem Ice Rink
359 Illick's Mill RD, Bethlehem, PA 18017
Donations Accepted at the Ice Rink April 1-23, 2019
Monday through Saturday 9-noon
Definition: Feminism (It may not be what you had been thinking)
: the belief that men & women should have equal rights & opportunities
: organized activity in support of women's rights and interests
: the theory of the political, economic, and social equality of the sexes
Three Steps to Overcoming Negotiation Bias
Do Your Homework.  Read more