56th ANNUAL BOOK FAIR A SUCCESS!
The Bethlehem Branch of AAUW sends a huge THANK YOU to the customers, donors and volunteers who made the 2018 Book Fair a big success. Your contributions were vital to the success of this event. Proceeds will fund college scholarships for local girls and women. Since Book Fair began in 1962, the Bethlehem Branch has awarded over $740,000 in college scholarships!
Found at Book Fair: purple binder with pages of categorized books the owner has read and/or wants to read. If this is yours contact us through this website.
AAUW-Bethlehem Represented at AAUW-PA  Harrisburg Rally and Lobbying Day

 Susan McNamara, AAUW-Bethlehem and Toni Hoffman, AAUW-Easton were among AAUW members participating in the AAUW-PA Rally and Lobbying in Harrisburg on Equal Pay Day, April 10, 2018. Read more
AAUW and the Holiday Gift Giving Project Update

56 members have been very generous with their "AAUW Holiday Giving" gifts: our total to date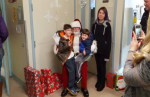 is $3,905. That means we have the opportunity to hit the $4,000 mark.
If you have not contributed yet or would like to add to an original donation, the deadline for contributions is November 30, 2017.  
While we are looking forward to the holidays with families and friends, we know also that these times can be particularly stressful for families in need.
Let's help New Bethany Ministries put more smiles on the faces of the moms and their children they serve over the holidays and beyond.
Send your gift to: Susan P. McNamara
AAUW Scholarship Reception 2017
What a great evening and culminating event of the hard work of the Bethlehem Branch of AAUW. We ended the year on a high note providing 22 high school seniors and one nontraditional student with awards totaling over $26,000. Read more
Why Public Policy in AAUW?
If we women don't advocate for issues that directly affect our lives then who will? Who else can speak from first-hand experience about the struggles and issues that face us? Who else can do it better? Revisit our mission and diversity statement and our purpose. You can find these in front of any yearbook. You can get involved on any level from joining Two-Minute Activist at aauw.org, registering new voters, writing letters to the editor (for which there are samples), or even lobbying your representatives (with help). There is strength in numbers. Let us take up our pens, raise our voices, tweet and post. If not now, when?  Randi L. Blauth, Co-Chair, Public Policy
Definition: Feminism (It may not be what you had been thinking)
: the belief that men & women should have equal rights & opportunities
: organized activity in support of women's rights and interests
: the theory of the political, economic, and social equality of the sexes
 Hunger and Help in the Lehigh Valley
Many people in the Lehigh Valley are hungry or food insufficient. Read more
Three Steps to Overcoming Negotiation Bias
Do Your Homework.  Read more