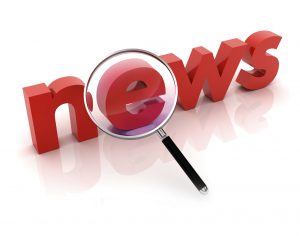 AAUW Bethlehem Branch September Event
On Wednesday, September 15, at 7:00 PM, AAUW Bethlehem will be hosting a Zoom event, "The Joys and Challenges of Starting and Running a Business." Four women business owners will participate in our panel discussion. To register for the event, please email mlvaauw@gmail.com by Monday, September 13.
This is a "Shape the Future" event, which means the public is invited to this free invite. People who would like to join AAUW that evening are qualified for half-price membership of $44, payable that evening.
Mystery Book Club Meetings
The September meeting of the Mystery Book Club is on September 28 from 1:30 PM to 3:00 PM. The book is "Voices: An Inspector Erlendur Novel" by Arnaladur Indridason. The October meeting will take place Tuesday, October 26, from 1:30-3:00 PM. The book is "The Last Equation of Isaac Severy: A Novel in Clues" by Nova Jacobs. New members are always welcome. Please contact Mary Dawson for more information.
First 2021-2022 Bacchae Meeting
Bacchae held its first meeting for the 2021-2022 year on August 12 where we created our calendar, tasted Folino wines, and collected dues for the year. Our next meeting is scheduled for Thursday, October 14, at 4:00 PM at Fran and Jeanne's house. We will be having our normal wine tasting and a light dinner. Please let Fran know if you will attend or not. Our theme this year is Wines from Pennsylvania and New York state. Any questions? Contact Phyllis Wargo.
At a recent meeting of Bacchae at Rita Bergstrom's house, we enjoyed a light dinner and tasted the Folino wines that we purchased at a tasting and lunch at the winery in July.

Gateway to Equity Award Presentation
 Linda Robbins and several AAUW members met at the Apollo Grill in Bethlehem on June 24 to present Rachel Griffith, owner of the Apollo Grill, with the Gateway to Equity Award for 2021. Rachel has been a part of the highly successful Apollo Grill for over 10 years. She began as a manager, then general manager, and now the owner. Rachel leads women, including a female executive chef, hot and cold line leaders, and waitstaff, most unusual for this industry. She has also launched the Generation Next Scholarship Fund created under the non-profit Community Action Committee of the Lehigh Valley to assist minority students with college access. Rachel exemplifies the qualities of a strong business sense as well as a need to serve her community. We are pleased to present Rachel Griffith with this certificate and a check for her dedicated activism.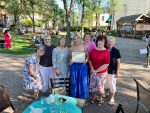 60th Annual Used Book Fair is Coming!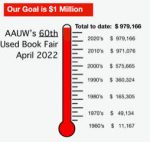 The dates have been set for the 60th Book Fair at the Ice Rink on Illick's Mill Road, Bethlehem. We know you have all been waiting, too. Keep saving your books and be ready for our sale!
Collections begin April 4 through April 26, 2022 and we will be accepting used books, CDs, DVDs, and Audio Books.
More exciting is how close we are to reaching a goal of $1 million in sales of the donated materials. Since 1962, $979,000 has been raised and with that, approximately 735 girls have received scholarships totaling approximately $750,000.
Let's make #60 an all-star record-breaking year.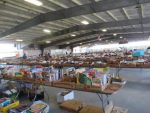 59th Annual Used Book Fair is Cancelled
After much deliberation, AAUW Executive Board has made the decision to cancel the Spring 2021 Book Fair for many reasons, but mainly to secure the health and safety of our members and volunteers, as well as our shoppers and extended community.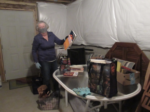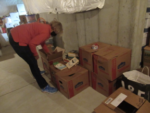 Some of the Book Fair Committee hard at work in January getting ready for the 60th Book Fair at the Bethlehem Ice Rink.
Inter-Branch Diversity Study Group "Goes" to Harrisburg
On July 15,  2019, members of the Bethlehem-Easton inter-branch study group, 'Diversity: Deeds and Dialogue,' joined other AAUW-PA members to participate in a webinar conversation with Pennsylvania's First Lady Frances Wolf. This program was led by AAUW-PA Public Policy Chair, Barbara Price. Mrs. Wolf mentioned her interested in the issue of women and the criminal justice system, particularly that of re-enetry.
In the Q&A box, D:DD co-chair, Randi Blauth, thanked the first lady and the governor for their work and recognition of the problems women face upon reentry to our communities. Randi mentioned that our group had studied many of the issues and had worked, in limited capacity, with groups in the Lehigh Valley working for change. Mrs. Wolf expressed an interest in what the group had done and said she'd be in touch.
The next day, her Chief of Staff, Jen Wilburne, contacted the group to schedule a conversation with her and Executive Staff Assistant, Madeline Williams. A week later, many from the inter-branch study group "went" to Harrisburg via Zoom. Mrs. Wolf's staff and the D:DD shared an energizing and fruitful conversation on the barriers to safe housing, jobs, job training, transportation, safety, mental health, and domestic violence. the Diversity: Deeds and Dialogue study group is grateful for the opportunity to work with Mrs. Wolf and her staff.
You can read more about the experience on page 5 of the September Newsletter.
AAUW Lehigh at the NCCWSL Conference
In 2019, AAUW Lehigh sent four students to the NCCWSL conference at the University of Maryland. The student group was able to do so because our members along with other friends – raised more than $1,700 to help them with registration and travel expenses. In appreciation, the young women presented an autographed copy of Roxane Gay's book "Bad Feminist".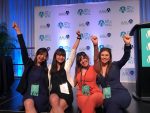 Gender Pay Gap Shortchanges Women $500 Billion Annually; Biggest Gaps among Financial Managers, Physicians and Surgeons
Link to AAUW National website: Gender Pay Gap Shortchanges Women $500 Billion Annually; Biggest Gaps among Financial Managers, Physicians and Surgeons
Definition: Feminism (It may not be what you had been thinking)
: the belief that men & women should have equal rights & opportunities
: organized activity in support of women's rights and interests
: the theory of the political, economic, and social equality of the sexes
Three Steps to Overcoming Negotiation Bias
Do Your Homework.  Read more