WELCOME to AAUW Bethlehem (PA) Branch
Our Mission: To advance gender equity for women and girls through research, education, and advocacy.
American Association of University Women (AAUW) is a nationwide network of more than 170,000 members and supporters across the United States, with 1,000 branches. For 130 years, AAUW members have examined and taken positions on the fundamental issues of the day — critical social issues, civil rights, education, , discrimination, and workplace equity. Our commitment to our mission is reflected in all aspects of our work.
---
61st Annual Used Book Fair
Location: Bethlehem Municipal Ice Rink, 345 Illick's Mill Road 18017
2023 SALE DATES Thursday, April 27 – Monday, May 1, 2023
Proceeds from the annual Used Book Fair benefit college scholarships for graduating senior girls and non-traditional female students and other programs sponsored by the Branch. The Used Book Fair is made possible by the efforts of our Branch members and community volunteers. No experience is necessary to volunteer – on-site training will be provided! Please commit in any way that you can to help us with the major fundraiser.
Donation Dates: Monday, April 3 – Tuesday, April 25, 2023
Book Sorting: April 3 – April 25, 2023, Monday through Saturday, 9 AM-Noon
Kick-Off Koffee: Tuesday, April 4, 2023, @ 10 AM
Branch Members Sup & Shop: Tuesday, April 25, 2023 6PM time
Sale Dates: Thursday, April 27 – Monday, May 1, 2023
For any questions about Book Fair, please visit our 'Contact Us' webpage here.
---

About Us: A Short History
AAUW Bethlehem Branch was officially recognized in 1929 with 55 members. The Bethlehem Branch organized the first Study Groups in 1933 for social activities and exploration of positions of fundamental issues of the day. We awarded the first scholarship of $300 to a female graduate of Bethlehem High School in 1954. In 1963, we opened the doors to our First Book Fair. This year we celebrated its 60th anniversary and to date have raised over one million dollars for educational scholarships for women and girls. In 2022, we celebrate our 93rd year of continuing to break through barriers for women and girls.
Membership Matters
AAUW is a community that strives to advance equity for women and girls through advocacy, education, and research. Your membership strengthens AAUW's powerful voice on current critical issues. We can't do it alone. Let your voice be heard and join a local branch of AAUW.
Join Us for the September Program: Chief Michelle Kott – The First Female Police Chief in the City of Bethlehem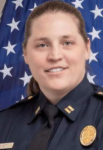 Saturday, September 17, 2022 10:00 a.m. Northampton Community College Fowler Family Southside Center, 511 E. 3rd Street, Bethlehem 18015 – Public Invited
Chief Kott is an 18-year veteran of the City of Bethlehem Police Department. Prior to her appointment as Chief in 2020, she served as a patrol officer, detective, patrol sergeant, detective sergeant, detective lieutenant, and captain. In addition to these primary assignments, Chief Kott also served as a member of the department's Crisis Negotiation Team, and would later become the group's Team Leader. Chief Kott is a member of the International Association of Chiefs of Police, as well as the Pennsylvania Chiefs of Police Association. Chief Kott holds a Bachelor of Arts degree in Criminal Justice from DeSales University and a Master's degree in Criminal Justice from St. Joseph's University. In 2019 she received her Doctorate in Criminal Justice from California University of Pennsylvania and was the recipient of the Jay S. Albanese Award for Academic Excellence in Doctoral Criminal Justice Studies. Chief Kott is an adjunct instructor with Northampton Community College and resides in Bethlehem, PA with her wife and two children. Please join us for this one of a kind presentation from a top notch woman. Since this event is open to the public, please invite friends.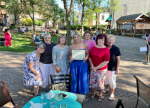 The Gateway to Equity Award: Rachel Griffith 2021
Gateway to Equity Award – 2022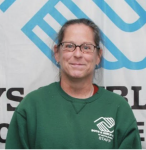 Lisa Ramos, Director of Bethlehem Boys and Girls Club
The Bethlehem branch has chosen to honor Lisa Ramos, Unit Director of the Bethlehem Boys and Girls Club with the "Gateway to Equity Award" of 2022. Lisa has dedicated herself for over thirty-two years to working with disadvantaged children and to improving their lives. She was the first women hired in the Program Department and the first woman to be a Building Director for the Boys and Girls Club of Bethlehem management team. She was also the first female Assistant Director of Operations for the organization In her role of Unit Director, she works with boys and girls and she mentors young ladies. She teaches children to develop healthy habits and she leads the "Smart Girls Program" which focuses on making positive choices to create a positive self-image. Her obvious passion for and love of the children in her care is felt and appreciated by them and by their families. Lisa has made a huge difference in the lives of several generations of Bethlehem's children, helping them realize their full potential as productive, responsible, caring citizens.
The 60th Anniversary of the Book Fair Luncheon
The 60th Anniversary of the Book Fair Celebration Luncheon was held on June 29, 2022, at the Northampton Country Club hosted by Linda Robbins, Nancy Disario, and Linda Zimmerman. Forty-six Book Fair workers attended, both branch members and community volunteers. The "Named Gift Honorees" certificate was presented to all the Book Fair Chairs and Co-Chairs throughout the years. Eight past and present Chairs – Marie Boltz, Cinda Jensen, Margaret Mahoney, Nancy Disario, Linda Robbins, Debbie Spinney, Rita Bergstrom, and Amy Fields shared their memories and Rita announced that our official total from this year's sale was $65,800. Wow! Cynthia Weber told about Amazon sales, Fran Bentkowski explained the history of our scholarships, and Jack Weber regaled us with excerpts from his life as a male volunteer. The Readers' Game proved to be rather difficult but Barbara Meyers' table prevailed with the mot correct answers. We all enjoyed the delicious meal, the camaraderie, and the chance to see everyone in their party clothes rather than their dusty Book Fair sweatshirts and t-shirts.
AAUW BOOK FAIR: WE HIT $1 MILLION!
AAUW 2022 BOOK FAIR WAS A SUCCESS!
AAUW Bethlehem wishes to thank all members, volunteers, and the entire community for the success of the 2022 Book Fair. From the first day we were overwhelmed with donations and everyone worked diligently to get the materials sorted and out on the Ice Rink for sale. We believe this to be the biggest fair ever and we were all thrilled to exceed the $1 million dollar amount in gross sales over the 60 years the fair has been in existence. That funding has provided for many many scholarships for young women and also adult women furthering their education. We hope to see you all next year
Meeting with section chairs and volunteers!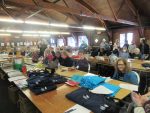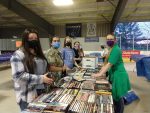 Senior Troop #8225 doing some Community Service by helping with Book Fair. They are checking the CD and DVD cases making sure they contain the correct disc. The troop meets at East Hills Moravian Church in Bethlehem.
PA School Funding: The Good, The Bad, & The Ugly
On Saturday, October 9, 2021, Michael Faccinetto, President of the BASD Board of School Directors, presented an "eye-opening" slide show to our members and the community on Fair Funding for PA Public Schools. Starting with the Constitutional Standard (Article III, Section 14) "The General Assembly shall provide for the maintenance and support of a thorough and efficient system of public education to serve the needs of the Commonwealth," he then went on to provide a history of school funding. He explained the basics of how our schools became so unfairly and poorly funded using a technique called "hold harmless."
This funding mechanism meant to ensure that some declining school districts would not collapse has instead caused severe underfunding for growing school districts in our state. Mr. Faccinetto highlighted the disparity in funding by using the Parkland and Allentown School Districts as an example. Living on a different side of the street in one Allentown neighborhood means a very different school experience.
PA School Districts are underfunded by $4.6 billion — and those in the poorest school districts, who have fallen the furthest behind are owed the most. The average Bethlehem School District student is shortchanged $2,709 per year. For Mr. Faccinetto's complete slide presentation with additional resources see the link here: Pennsylvania School Funding.