62nd Annual AAUW Used Book Fair
2024 Book Fair

Location: Bethlehem Municipal Ice Rink, 345 Illick's Mill Road 18017; Telephone: 610-865-7104
2024 SALE DATES: Thursday, April 25 – Monday, April 29, 2024
Proceeds from the Annual Used Book Fair benefit college scholarships for graduating senior girls and non-traditional female students, and educational programs sponsored by the Branch. The Used Book Fair is made possible by the efforts of our Branch members and community volunteers. No experience is necessary to volunteer — on-site training will be provided! Please volunteer in any way that you can to help us with this major fundraiser.

Donation Dates: Tuesday, April 2 – Tuesday, April 23, 2024
Book Sorting: : April 2 – April 23, 2024; Monday through Saturday, 9am – noon
Kick-Off Koffee: Tuesday, April 2, 2024 @ 10 AM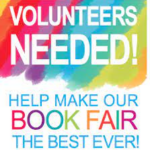 2024 Chairs: Joan Howe 610-509-3113; Debbie Spinney 610-657-5038

For any questions about Book Fair, please visit our 'Contact Us' webpage here or email Joan Howe or Debbie Spinney.
FAQ for BOOK FAIR
Acceptable Donations: all gently used and new hardcover and paperback books (including large print), CDs and DVDs EXCEPT those listed in #2 below.
We DO NOT ACCEPT the following because they do not sell: textbooks, Chicken Soup, reference (dictionaries, encyclopedias, Time-Life series), foreign language, business, technology, VHS tapes.
Donations cannot be accepted until April 2, 2024, because we do not have storage for them.
Donations need to be brought to the Book Fair site (the Ice Rink on Illicks Mill Rd, Bethlehem, PA) April 2 through April 23, 2024.
Volunteers are needed April 2 through April 23, 2024, to help sort and move books. Strong volunteers are especially appreciated because the books can be heavy!
Sale dates and times for 2024. Admission charged April 25th 2-6pm. Free admission: April 26 10am-6pm; April 27 10am-5:00pm; April 28 noon to 5:00pm (1/2 price day) and April 29 from 9:00am to noon ($10 per bag).
START SAVING YOUR BOOKS FOR DONATION! WE WILL SEE YOU IN APRIL 2024.