AAUW BOOK FAIR: WE HIT $1 MILLION!
AAUW 2022 BOOK FAIR WAS A SUCCESS!
AAUW Bethlehem wishes to thank all members, volunteers, and the entire community for the success of the 2022 Book Fair. From the first day we were overwhelmed with donations and everyone worked diligently to get the materials sorted and out on the Ice Rink for sale. We believe this to be the biggest fair ever and we were all thrilled to exceed the $1 million dollar amount in gross sales over the 60 years the fair has been in existence. That funding has provided for many many scholarships for young women and also adult women furthering their education. We hope to see you all next year!
BOOK FAIR REVEALED!!! WE ARE READY FOR YOU!!!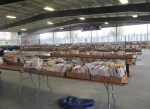 Book fair hours are:
April 28, 2-6 PM (paid entry required)
April 29, 10 AM – 7 PM
April 30, 10 AM -6 PM
May 1st, 12-6 PM (Half-price Day)
May 2nd, 9-12 AM (Bag Day – $10 a bag)
The Return of AAUW's Annual Book Fair!
Check out the Better Books list before the Book Fair here!
Read about the hard work that has been put into this year's Book Fair here!
Due to the overwhelming response to donations for our Book Fair, Saturday, April 23rd will be the last day for accepting donations. Please visit the Book Fair from April 28 – May 2.
Thank you to the Lehigh Valley community for all your contributions to our Book Fair. We expect this to be a banner year in sales, and exceed our goal of $1 million in total gross sales for the 60 years we have had Book Fair. Graduating girls from our local high schools, who receive our scholarships, will definitely benefit from this year's sales. We have a group of dedicated volunteers but we can always use more. Even if you can only help a few hours a week please plan to come and join our happy crew. We have a lot of fun and you get the first chance to buy books! We need sorters every morning when donations are accepted (don't worry – we will train you) and also volunteers to be cashiers and helpers on the floor on sale days.
We can give you a sneak peek at what's under some of the blue tarps. This photo shows just a sample of what is available in the Children's Section.
Biography
HistoryCooking
60th Annual Used Book Fair
Location: Bethlehem Municipal Ice Rink, 345 Illick's Mill Road 18017
2022 SALE DATES Thursday, April 28 – Monday, May 2, 2022
Proceeds from the annual Used Book Fair benefit college scholarships for graduating senior girls and non-traditional female students and other programs sponsored by the Branch. The Used Book Fair is made possible by the efforts of our Branch members and community volunteers. No experience is necessary to volunteer – on-site training will be provided! Please commit in any way that you can to help us with the major fundraiser.
Donation Dates: Monday, April 4 – Tuesday, April 26, 2022
Book Sorting: April 4 – April 26, 2022, Monday through Saturday, 9 AM-Noon
Kick-Off Koffee: Tuesday, April 5, 2022, @ 10 AM
Branch Members Sup & Shop: Tuesday, April 26, 2022 (PM time to be announced)
Sale Dates: Thursday, April 28 – Monday, May 2, 2022
For any questions about Book Fair, please visit our 'Contact Us' webpage here.
60th Annual Used Book Fair is Coming!
The dates have been set for the 60th Book Fair at the Ice Rink on Illick's Mill Road, Bethlehem. We know you have all been waiting, too. Keep saving your books and be ready for our sale!
Collections begin April 4 through April 26, 2022, and we will be accepting used books, CDs, DVDs, and Audio Books.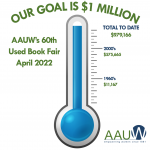 More exciting is how close we are to reaching a goal of $1 million in sales of the donated materials. Since 1962, $979,000 has been raised and with that, approximately 735 girls have received scholarships totaling approximately $750,000.
Let's make #60 an all-star record-breaking year.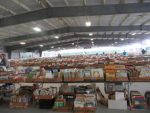 Don't Miss This! 60th Anniversary Bethlehem Branch Book Fair Celebration Luncheon
Wednesday, June 29 2022, at Northampton Country Club. Details to follow.
59th Annual Used Book Fair is Cancelled
AAUW Executive Board has made the decision to cancel the 59th Annual Used Book Fair in Spring 2021. After much deliberation and discussion, it was decided to cancel in large part to secure the health and safety of our members and volunteers, as well as our shoppers and extended community.
Thank you for your donations and patronage in previous years. The proceeds have supported scholarships and other educational programs. We hope to see you at the 60th AAUW Annual Used Book Fair in 2022 at the Bethlehem Ice Rink. Those dates have not been confirmed, so keep checking back to our webpage and Facebook page.
57th ANNUAL USED BOOK FAIR A SUCCESS!
The Bethlehem Branch of AAUW sends a huge THANK YOU to the customers, donors and volunteers who made the 2019 Used Book Fair a big success. Your contributions were vital to the success of this event. Proceeds will fund college scholarships for local girls and women. Since the Book Fair began in 1962, the Bethlehem Branch has awarded over $750,000 in college scholarships.
Looking forward to seeing you in March/ April 2022 for the 60th AAUW Book Fair at the Bethlehem Ice Rink.
BFF: Book Fair Friends
Yes, Book Fair raises money for college scholarships. And, yes, Book Fair brings together our members and volunteers in a fun work environment. But did you also know that Book Fair connects strangers who become friends through their love of books? Pictured here are Sue Priga (left) and Katrina Divito (right). They met 10 years ago at our branch Book Fair when one of them picked up a book and the other told her how great that book was. They started talking and have been close friends ever since . . . and every year they come to our Book Fair together!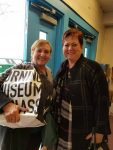 Happy reading,
Amy Fields, Book Fair co-chair
Rita Bergstrom, Book Fair co-chair