59th Annual Used Book Fair is Cancelled
AAUW Executive Board has made the decision to cancel the 59th Annual Used Book Fair in Spring 2021. After much deliberation and discussion, it was decided to cancel in large part to secure the health and safety of our members and volunteers, as well as our shoppers and extended community.
Thank you for your donations and patronage in previous years. The proceeds have supported scholarships and other educational programs. We hope to see you at the 60th AAUW Annual Used Book Fair in 2022 at the Bethlehem Ice Rink. Those dates have not been confirmed, so keep checking back to our webpage and Facebook page.
57th ANNUAL USED BOOK FAIR A SUCCESS!
The Bethlehem Branch of AAUW sends a huge THANK YOU to the customers, donors and volunteers who made the 2019 Used Book Fair a big success. Your contributions were vital to the success of this event. Proceeds will fund college scholarships for local girls and women. Since the Book Fair began in 1962, the Bethlehem Branch has awarded over $750,000 in college scholarships.
Looking forward to seeing you in March/ April 2022 for the 60th AAUW Book Fair at the Bethlehem Ice Rink.
BFF: Book Fair Friends
Yes, Book Fair raises money for college scholarships. And, yes, Book Fair brings together our members and volunteers in a fun work environment. But did you also know that Book Fair connects strangers who become friends through their love of books? Pictured here are Sue Priga (left) and Katrina Divito (right).  They met 10 years ago at our branch Book Fair when one of them picked up a book and the other told her how great that book was. They started talking and have been close friends ever since . . . and every year they come to our Book Fair together!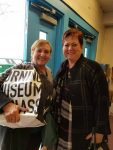 Happy reading,
Amy Fields, Book Fair co-chair
Rita Bergstrom, Book Fair co-chair