58th Annual Used Book Fair is Cancelled
This is due to the requirements regarding COVID 19 put forth by Governor Wolf and the general escalation of the spread of the virus. Thank you for your donations and patronage in previous years. The proceeds have supported scholarships and other educational programs. We hope to see you at Book Fair 2021. 
Book Donations will be accepted from Monday, March 29 to Tuesday, April 20, 2021. Sale Days are Wednesday, April 21 to Sunday, April 25, 2021.
57th ANNUAL USED BOOK FAIR A SUCCESS!
The Bethlehem Branch of AAUW sends a huge THANK YOU to the customers, donors and volunteers who made the 2019 Used Book Fair a big success. Your contributions were vital to the success of this event. Proceeds will fund college scholarships for local girls and women. Since the Book Fair began in 1962, the Bethlehem Branch has awarded over $750,000 in college scholarships.
Please mark your calendars for the 2020 Book Fair at the Bethlehem Ice Rink.
BFF: Book Fair Friends
Yes, Book Fair raises money for college scholarships. And, yes, Book Fair brings together our members and volunteers in a fun work environment. But did you also know that Book Fair connects strangers who become friends through their love of books? Pictured here are Sue Priga (left) and Katrina Divito (right).  They met 10 years ago at our branch Book Fair when one of them picked up a book and the other told her how great that book was. They started talking and have been close friends ever since . . . and every year they come to our Book Fair together!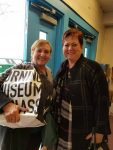 Remember the below dates and mark your calendars for the 2019 Book Fair.
Happy reading,
Amy Fields, Book Fair co-chair
Rita Bergstrom, Book Fair co-chair