Book Fair History: Celebrating 60 Years of Book Fair
Spring 2022
By Rita Bergstrom and Amy Fields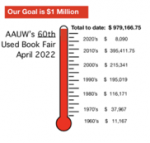 We've had so many years of strong, vibrant, hard-working women contributing to the past Book Fairs, that we are VERY excited about coming to this milestone of our 60th event. Even bigger is our anticipation of reaching the fantastic level of breaching the $1 million mark in sales since the sales began in 1962.
The sale began in 1962 on Main Street and traveled to City Motors for 5 years, Pennsylvania Playhouse for 3 years, the Ice Rink building for 14 years, the Ice Rink and Pool Buildings for 12 years, the Memorial Pool Building for 21 years, and finally the Ice Rink building AND Ice Rink since 2019. Due to the COVID-19 pandemic we were forced to cancel the 2020 (58th) and the 2021 (59th), but still managed to do brisk Amazon store sales, therefore, maintaining our streak to get us to the 60th.
During the pandemic, work continued for Book Fair. The storage shed where we house all the paraphernalia for book fair – crates, boxes of books, and strawberry boxes (to get us started!) -needed a little spring housekeeping. Since we are not in the Pool Building, we recycled the mountains of shelving leaving more room for books. Rita Bergstrom has been the magnet for everyone's old books. A small group got together and we presorted those books to make room for more! Linda Robertson made the decision to relinquish the Amazon Book Store. Another group of volunteers sorted all of those books by decade and packed them up to be sold to Wonder Books in Frederick, Maryland. Most of the books (the books from pre-1900 through 1960) were taken to Maryland in mid-April. The remaining books (1970s and beyond) were taken by Shirley Daluisio for her church's book sale. A big win for everyone.
We are looking forward to the 60th Book Fair, to begin with book collections on April 4, 2022, at the Ice Rink on Illick's Mill Road, Bethlehem. Our sale will be from April 28 through May 2, 2022. Can't wait to see you there!
Book Fair Celebrates 50 Years
By Karen Donald and Nancy Disario
PART 1
From Main Street to Broad Street to Illick's Mill Road, AAUW-Bethlehem Book Fair has evolved and thrived. On March 30, 2012, we will celebrate our 50 years of Book Fair with a luncheon at Hampton Winds of Northampton Community College. You will be receiving a detailed invitation in the mail. If you have any special memories or thoughts about Book Fair, we would like you to send them along with your response so that we could share them at the luncheon. Please join us for this special celebration.
Next month we will tell the story of when and where the Book Fair was held, who played the important roles in making it a success, and how we used the proceeds totaling more than $640,000 from the first 49 years.
Photos scanned from archived news clippings by Sue Pettit