Let's Read Math
It's hard to believe, but Let's Read Math is celebrating its 10 year anniversary as a community outreach program. It seems like only yesterday that a few hardy souls ventured out to hear Dr. Claire Passantino of the Makefield Area AAUW present this unique program. Returning home, it was decided we would collaborate with our sisters from the Allentown Branch to present the program to elementary students (grades 2-4) in both of our school districts. Tapping in to the expertise of both math and elementary teachers in our branches, interactive lesson plans were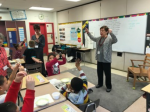 developed that combined reading a children's book that fosters the joy of reading with a fun math lesson. These lessons reinforce the math standards taught at each grade level and build positive attitudes toward math. And then the fun started… lining up all the "props" to make the lessons fun and exciting for these young students. During the ten years I can't even begin to imagine how many thousands of marshmallows and toothpicks we have purchased.
Our "school year" usually runs from mid-October to February but not every week. Each lesson lasts approximately one hour and we usually do two or three lessons in one day. And one of the best perks… if the schedule allows we enjoy great comraderie at a local restaurant for lunch.
There is no long term commitment to the program. If you want to join, your name is added to the email list and you come when you can. We work in teams of 5 to 8 in a classroom. And believe me; you don't have to know anything about math or teaching to be part of this group. You might hand out name tags, help children with their costumes for a play, or supervise a small group making geometric shapes out of all those marshmallows mentioned earlier. If you have raised your own children or are now enjoying your own grandchildren, you more than qualify for this group. Our motto is, "Many hands make light work."
Over the years, we have reached well over 2000 children. With the cutbacks to funding in public education, teachers are thrilled to have this program come to their schools. But the best part is seeing the children "light up" when they "get" a math concept. And boy do they remember us. I returned to one school months later to read to a class for Dr. Seuss's Birthday  and as I walked down the hall I was greeted by a group of students out in the hall with, "Hi, Marshmallow Lady." I have been called many things in my career in education, but this one was definitely one I will always remember and cherish.
One of the things we always lamented in our teaching careers was that we never knew if we "reached" our students in a meaningful way. But I am certain this program is helping to "reach" these youngsters and instill in them a love a math and reading AND the importance of being lifelong learners.
This is a great group of gals who enjoy fun and fellowship while working with children. If you are interested in joining this merry band of volunteers, please contact me at fbentkowski@verizon.net. This program has a place for any and all volunteers. Come join us!!