An Update
WOW! Let's Read Math has just begun its sixth year and it is better than ever. This joint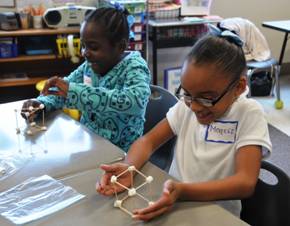 venture with AAUW-Allentown combines a piece of children's literature with an interactive math lesson. And, thanks to the retired elementary teachers in our group, the stories we "teach" reinforce state and national math and reading standards. With all the recent cutbacks in funding for public education, the teachers are thrilled to have this program come to their schools. But the best part is seeing the children "light up" when they "get" the concept.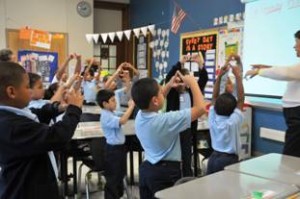 Last week we started the year at a new school, Roosevelt Elementary in Allentown. What a wonderful school. It was exciting to see the children in their uniforms. I am convinced it adds to the educational atmosphere. We enjoyed presenting The Greedy Triangle which teaches students about geometric shapes. And how they enjoyed constructing the shapes with toothpicks and marshmallows!
To keep this wonderful program going, we need your help. You don't need any teaching experience… just a willingness to work with the little ones. There is no long term commitment. Just come when you can. You can participate as much or as little as you like. If you are interested in joining out merry band of volunteers, please let me know. We would love to have you!!
Fran Bentkowski at fbentkowski@verizon.net
The Let's Read Math team has been off and running this fall. Along with our colleagues from AAUW-Allentown, we presented lessons in 20 elementary classrooms including Muhlenberg and Ritter in Allentown and Miller Heights and Farmersville in Bethlehem. Nothing stops these women from teaching a wonderful lesson …not even a power outage! Just as we began The Greedy Triangle at Ritter Elementary, the entire school lost its electricity. But did that stop us…absolutely not. With our toothpicks and marshmallows at the ready, we provided a fun geometry-based lesson to 25 second graders.
This past summer, thanks to a dedicated band of volunteers, the lesson plans were updated and a new story, The King's Commissioners, was added. And, all of our stories are now aligned to the Pennsylvania math standards.
Now, we are starting up again. Please consider volunteering for this wonderful community endeavor. The students and their teachers are very appreciative of our efforts. Joining us does not require a major time commitment. Your name is added to the mailing list and you come when you can. You do not have to know anything about math or teaching. You join in based on your comfort level. You might hand out name tags, help children into their "costumes" for the play, or supervise a small group making geometric shapes out of marshmallows and toothpicks.
This a great group of women who enjoy fun and fellowship while working with children, and, when the timing allows, lunch out between classes! Interested in joining? Contact me at 610-866-7462 or fbentkowski@verizon.net.
– Fran Bentkowski, Coordinator
Let's Read Math Honors Founding Member
BookPlate in Books Donated to School Libraries/Classrooms
AAUW-Bethlehem
Let's Read Math
In Memory of
Sue Matheson
Let's Read Math
A Second Successful Year!
Let's Read Math, a joint venture between the Bethlehem and Allentown Branches of AAUW, has just completed a second successful year of programs for the children of our two communities. From September of 2009 through the end of July 2010, we presented to over 460 students in 24 classrooms, both during the school day and in after school programs. And this summer we had a return engagement at the Allentown Y. Our group has an active core of 22 women who have contributed hundreds of hours of volunteer time to this wonderful project. Our repertoire consists of five stories that teachers can request to help their students reach the math standards in a fun, entertaining way. And during August we will be working to add to our list of available stories. Feedback has been has been very positive from both the students and their teachers, and the school principals. We know we are doing something right when the teachers ask if they can "steal" elements of our lessons. And one of the best, but unexpected benefits of this program is that AAUW and its mission are becoming more readily known throughout our two communities.
As most of you know, we lost one of our "AAUW Sisters," Sue Matheson. Sue was one of the original members of Let's Read Math and served as the secretary of our group. We will miss her. To keep her alive in our hearts, the books that we give to the schools after our presentations will all contain a bookplate in her memory.
We look forward to expanding this exciting program in this upcoming school year. We can always use extra hands. If you would like to join our merry band of volunteers, please contact me at fbentkowski@verizon.net.
– Fran Bentkowski, Coordinator