Book Fair: Gearing Up
Although it was a hot, rainy summer, it did not stop your BF chairpersons from thinking and working on the 2019 BF.
The summer was busy handling emails from community members who had books to donate immediately because of their move or a family member's move.  A trip to New Jersey resulted in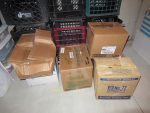 securing several boxes of books; Shirley Daluisio dropped books off at Rita's house for storage until BF, and other emails and phone calls have been answered with additional books stored in the rented BF storage shed.
Within the next month, the 2019 BF committee will be formed.  An email will go out to the previous section chairs, and others who have a pivotal role in helping with BF, asking if they will be able to continue as a BF volunteer.  The goal is to have a full committee before the new year.  If you are interested in becoming a part of the 2019 Book Fair, contact Debbie or Rita.
Enjoy the photos and get excited for another AAUW Book Fair.
BFF: Book Fair Friends
Yes, Book Fair raises money for college scholarships. And, yes, Book Fair brings together our members and volunteers in a fun work environment. But did you also know that Book Fair connects strangers who become friends through their love of books? Pictured here are Sue Priga (left) and Katrina Divito (right).  They met 10 years ago at our branch Book Fair when one of them picked up a book and the other told her how great that book was. They started talking and have been close friends ever since . . . and every year they come to our Book Fair together!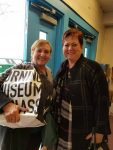 Remember the below dates and mark your calendars for the 2019 Book Fair.
Happy reading,
Debbie Spinney, Book Fair co-chair
Rita Bergstrom, Book Fair co-chair
57th ANNUAL BOOK FAIR
Thursday, April 25th through Monday, April 29th, 2019
Held at Bethlehem Ice Rink
359 Illick's Mill RD, Bethlehem, PA 18017
Donations Accepted at the Ice Rink April 1-23, 2019
Monday through Saturday 9-noon
Book Fair Coordinators: Debbie Spinney & Rita Bergstrom
Book Fair Coordinators: Debbie Spinney & Rita Bergstrom