BFF: Book Fair Friends
Yes, Book Fair raises money for college scholarships. And, yes, Book Fair brings together our members and volunteers in a fun work environment. But did you also know that Book Fair connects strangers who become friends through their love of books? Pictured here are Sue Priga (left) and Katrina Divito (right).  They met 10 years ago at our branch Book Fair when one of them picked up a book and the other told her how great that book was. They started talking and have been close friends ever since . . . and every year they come to our Book Fair together!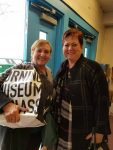 Remember the below dates and mark your calendars for the 2019 Book Fair.
Happy reading,
Debbie Spinney, Book Fair co-chair
Rita Bergstrom, Book Fair co-chair
57th ANNUAL BOOK FAIR
Thursday, April 25th through Monday, April 29th, 2019
Held at Bethlehem Ice Rink
359 Illick's Mill RD, Bethlehem, PA 18017
Donations Accepted at the Ice Rink April 1-23, 2019
Monday through Saturday 9-noon
Book Fair Coordinators: Debbie Spinney & Rita Bergstrom
Book Fair Coordinators: Debbie Spinney & Rita Bergstrom