Hello from Your AAUW-Bethlehem Executive Team
The executive team looks forward to saying hello to each member who registered for our September brunch; we are excited to learn what Ann Pehle has to say about State and National AAUW. Don't wait for brunch to investigate AAUW 'happenings'.  Go to the National website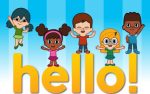 www.aauw.org and discover a ton of interesting information. You can read our new strategic plan or sign up to become a "Two Minute activist". Check out AAUW's corporate partners to read how girls' lives are impacted by AAUW today. Verizon and AAUW partnered to "Bring Coding Courses to Girls across the Country" while Symantec is teaming with AAUW on "Introducing Girls to Cybersecurity". We live in a new world and AAUW is taking the lead in bridging the skills gap that girls need to learn about important—and well-paying —careers. Our membership dues help make it happen.
Then, you can check out the State website at  https://aauw-pa.aauw.net/ for information on our efforts to fairly redistrict Congressional and State House and Senate district lines. "Draw the Lines" is a multiyear, nonpartisan civic education and engagement project managed by The Committee of Seventy that offers a statewide public mapping competition to engage citizens in fixing the bug in the operating system of democracy—gerrymandering.  As with Fair Districts PA (FDPA), AAUW-PA signed on as an endorsing organization with "Draw the Lines". If we hear from YOU that "Draw the Lines" is an idea you want to advance, the executive team will consider applying for one of the AAUW grants.
Finally, our own website and Face Book page are being updated and expanded. To reach the greatest number of readers we need YOU to "Like" us and FOLLOW us on Face Book at AAUW Bethlehem PA and "quote" from our Branch website at https://bethlehem-pa.aauw.net/ . Take a couple of minutes to watch the "Ifs and Onlys" video on little girls' dreams – this is what OUR GRAND DAUGHTERS are facing NOW.
If you see something you like, please hit the "Share" button. With YOUR help, our branch can impact our community.
Shirley Daluisio (VP, Program)
Anne Hammersmith (VP, Membership)
Jo Ann Kelly (Secretary)
Cathy Kotanchik (Immediate Past President)
Linda Robertson (VP, Program)
Linda Robbins (Finance Officer)
Ginny Stanglein (VP, Program)